Product Tested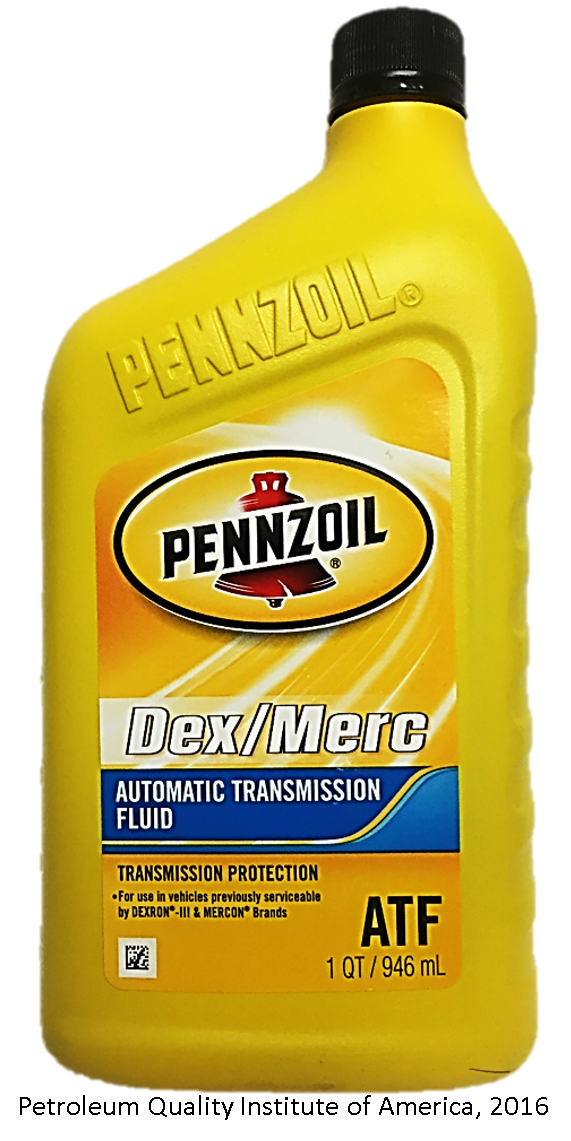 Click above for larger image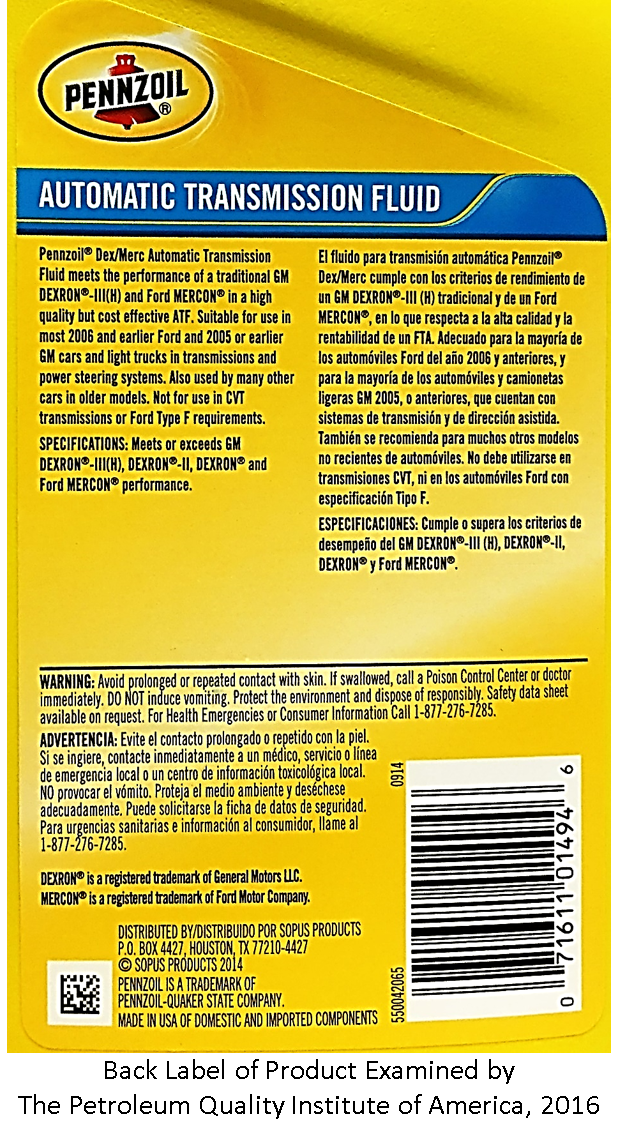 Click above for larger image
SOPUS PRODUCTS
Company and Product Information
Corporate Office:
SOPUS PRODUCTS
700 Milam 
Houston, TX 77002

Website(s): www.pennzoil.com
Shell Oil Company US (SOPUS) is the United States-based subsidiary of Royal Dutch Shell. Royal Dutch Shell is one of the largest major oil companies in the world SOPUS is a leading producer of oil and natural gas, gasoline, and petrochemical products in the US.

The company is also a leading manufacturer and marketer of motor oils and other automotive and industrial lubricants and products. In addition to Shell branded lubricants, Pennzoil-Quaker State Company, doing business as SOPUS Products, Inc., produces motor oils and other automotive products under the Pennzoil and Quaker State brand names.
Automatic Transmission Fluid
PETROLEUM QUALITY INSTITUTE OF AMERICA TEST PROGRAM
The Petroleum Quality Institute of America (PQIA) is an independent resource for information and insights on the quality of lubricants in the marketplace. Our mission is to serve the consumer of lubricants by randomly sampling and independently testing lubricants taken from the field. Test results are posted along with the brand names on the PQIA website. This webpage provides an analysis on the brand detailed below.
The following are the test results for the sample examined.
Pennzoil
Dex/Merc ATF
Distributed by: SOPUS PRODUCTS, Houston, TX
Purchased at: Venice, FL
Date of purchase: 8/26/2016
Website(s): www.pennzoil.com
Test Results and Assessment:
The results of the tests conducted on this sample meet the requirements for Dexron III/Mercon.
Physical Properties
Elemental Analysis
Labeling
PHYSICAL TESTS (click for test details)
Standard
Pennzoil
Flash Point in ºC (ASTM D92)
170/177 Min-c

205

Viscosity @ 100ºC, cSt (ASTM D445)
6.8 Min

7.2

Viscosity @40ºC, cSt (ASTM D445)

34.8

Viscosity Index (ASTM D2270)

177

Brookfield Viscosity @-40ºC mPa s (cP)
20,000 Max

15,820

ELEMENTAL ANALYSIS (click for test details)
Additives
Calcium

80

Magnesium

0

Phosphorus, ppm

218

Zinc, ppm

3

Molybdenum, ppm

0

Barium, ppm

0

Boron, ppm

112

Silicon, ppm

3

Potassium, ppm

1

Manganese, ppm

0

Titanium, ppm

0

Copper, ppm

0

Sodium, ppm

0

Vanadium, ppm

0

Contaminants
Silver, ppm

0

Aluminum, ppm

0

Chromium, ppm

0

Iron, ppm

0

Nickel, ppm

0

Lead, ppm

0

Antimony, ppm

0

Tin, ppm

0

Standards, shown in yellow are established by API, SAE and others.
Test Method for metal analysis is ASTM D5185.
Dexron® III, 170°C minimum, Mercon®, 177 °C minimum.